Buon inizio settimana!
Avete notato qualcosa?! -2 al completamento della mia TBR 2016 *_* ci sono stati degli abbandoni, è vero, ma anche questo è il calcio... ehm, volevo dire la lettura xD Ma l'anno non è ancora terminato e ciò vuol dire che potrò attingere ai titoli che si trovano nel mio tablet o sul mio scaffale, prima del Grande Ordine Amazon, che ho deciso farò prima di Natale (il mio auto-regalo! Lo so, sono deprimente...) Dunque dunque dunque, vediamo un po' cosa c'è di nuovo nella mia libreria fisica e in quella digitale ;)
From New York Times best selling author Cassia Leo, comes an epic love story about rewriting destiny.

Over the course of five years, Mikki and Crush cross paths on three separate occasions. Their first encounter changes Mikki's life forever, but their second meeting leaves them both buried beneath the emotional wreckage of a violent attack. Mikki is left with more questions and grief than she can handle, while Crush is forced to forget the girl who saved his life.

Now nineteen years old, Mikki Gladstone has decided she's tired of the mind-numbing meds. She books a flight to Los Angeles to end her life far away from her loving, though often distant, family.

Twenty-one-year-old Crush has always channeled his blackest thoughts into his music, but he's never had great aspirations. He decides to fly to Los Angeles to record a demo of the only song he's never performed in public; a song he wrote for a girl he doesn't even know: Black Box. He has no expectations of fame and he's never felt like his life had any purpose... until he meets Mikki in Terminal B.

When Mikki and Crush cross paths for the third time in Terminal B, neither has any idea who the other person is; until they slowly piece together their history and realize that fate has more in store for them than just another love story.
DOVE L'HO ACQUISTATO:
Cassia lo ha reso gratuito lo scorso 15 luglio e non me lo sono lasciato scappare! Ho sentito dire che è un capolavoro – e io amo questa autrice.
Step right up and meet Jay Fields: Illusionist. Mentalist. Trickster.

I think in triangles. You think in straight lines.

I show you a table and make you believe it's a chair.

Smoke and mirrors, sleight of hand, misdirection. I trick and deceive.

But most of all, I put on a good show.

The world thinks I killed a man, but I didn't. Bear with me. It's all a part of the plan.

Revenge is what I want. I want it for me and I want it for her. I want it for all six of us.

She doesn't remember me, but she's the reason for everything. She'll be my prize at the end of all this – if I can hold onto my willpower, that is. Maybe I'll slip up a little, have a taste, just a small one.

So go ahead and pick a card. Come inside and see the show. Look at my hands, look so closely that you can't see what's happening while you're so focused on looking. I'll be destroying your world from right here in the spotlight.

You'll never see me coming until it's too late.

I've only got one heart, and after I've pulled off my grand deception I'll hand it right to her.

So, sit back, relax, and let my girl tell you our story. You're in for one hell of a ride.
DOVE L'HO ACQUISTATO:
Scaricato gratis sempre il 15 luglio! Ho sentito dire grandi cose di questo libro, e dove c'è un Trickster ci sono io :3 non vedo veramente l'ora di leggerlo!
In a matter of seconds my entire world changed, and it was in that moment that I stopped living and simply began to exist.

In my grief, I sent a letter to the first boy I ever loved. I hoped in writing it I'd find some peace from the nightmare I was living, some solace in my anger.

I didn't expect him to write back. I wasn't prepared for his words, and I certainly wasn't ready for the impact this soldier would have on my life. A deep-rooted hate transformed into friendship, and then molded into a love like I'd never known before.

Sergeant Devin Ulysses Clay did what I couldn't: he put the shattered pieces of my heart back together, restoring my faith in humanity and teaching me how to live again.

But now that I'm whole, I have a decision to make. Do I return to my life as I knew it and the fiancé I left behind, or do I walk away from it all for the only man to ever break my heart?

***

I've been living in hell, but you won't hear me complain.

These men depend on me, as I do them, and this brotherhood is the only family I've ever known.

The Army saved me from a callous mother and a life on the wrong side of the tracks that was quickly spiraling out of control. So unlike most of the men in my platoon, going home wasn't something I longed for.

I was content overseas, spending my days defending this country that gave me my life back. Fighting became my new normal … until her.

A letter from Katie Devora—a letter that I almost didn't open. Her words put a fire back inside of me that I didn't know I'd lost. She gave me hope during a time when I was fighting every day just to stay alive, and now it's time I fight for her.
DOVE L'HO ACQUISTATO:
Questo, se non sbaglio, ce lo ha regalato Alessandra Torre in una delle sue newsletter :D ricordo bene che
Rosa
me lo aveva ardentemente suggerito!
Adrianna Rossi is no stranger to the rigorous demands required of her body. Years of pain and determination make her one of the best. Olympic glory is the ultimate goal, and she'll do anything to achieve it. Even if that means leaving home to attend World Cup Academy of Gymnastics, a training center that serves one purpose—producing champions.

Perfection, precision, and dedication are required of his athletes. When two time Olympian Konstantin Kournakova is persuaded into training the young hopeful, he immediately regrets it. She doesn't come close to his high standards. As the relentless pursuit of her dream keeps her striving, a passion is ignited within him.

Kova's power and domination, coupled with Adrianna's fierce tenacity, reveal there is more for her body to learn. Every interaction can be misconstrued, but there's no mistaking the darkening of his gaze, the lingering of his touch, or the illicit image of his bare skin pressed against hers. Integrity is on the line. One toe off the beam and their forbidden desires could ruin everything they've worked for, throwing it all off balance.
DOVE L'HO ACQUISTATO:
È stato un regalo di una gentilissimissimissima lettrice sul gruppo
The VBB Vixens
! Thank you so much, Heather ♥ adoro la cover e non vedo l'ora di iniziarlo!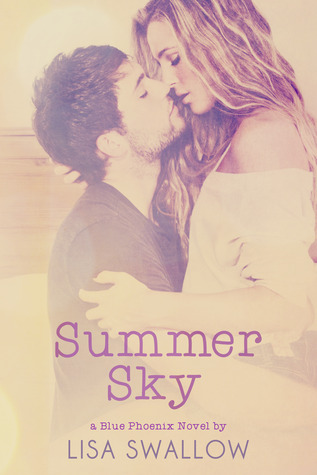 Sky changed her life for a man once, and she has no intention of doing it again - even if he is a six foot, tattooed rock god who makes a mean bacon sandwich.

Sky Davis is fed up of boyfriend Grant taking her for granted and when she comes home to find him wearing a girl, Sky suspects the relationship is over. She takes an unscheduled holiday and leaves the life (and guy) she hates behind.

Rock star Dylan Morgan is struggling with fame and infamy, sick of his life being controlled by other people. Dylan cuts his hair and walks away from his role as lead singer of Blue Phoenix, leaving chaos and speculation behind.

Outside the English seaside town of Broadbeach their cars and worlds collide.

Sky decides Dylan is an arrogant guy with too many tattoos, and Dylan is amused by the smart-mouthed girl with no idea who he is. Dylan and Sky soon discover they've travelled to Broadbeach for the same reason - to escape from reality back to a place with happy childhood memories.

Losing themselves in a world where they know nothing about each other, Sky and Dylan begin a holiday romance that soon heats up their rainy English summer.

Fantasies can't last forever and when reality crashes the party, Sky isn't sure she wants to be more than his 'summer Sky'.

Returning to the real world and public scrutiny isn't their only problem. Blue Phoenix lead guitar player, Jem Jones, has a reason for wanting Sky out of Dylan's life, and is determined to come between them. Some things won't stay hidden, even when they're paid to 'go away'.

Summer Sky is a romance where occasionally more than the bacon sizzles. This is the first in the new 'Blue Phoenix' series of contemporary rock star romances.
DOVE L'HO ACQUISTATO:
Grazie a
BookShark
ho scoperto che era gratuito su Amazon! Ho sempre voluto leggerlo, da tempo immemore il mio amicone GR me lo suggerisce. Amo la cover *-*
At a secret masked ball at Yale, Naomi Costa is literally swept off her stiletto-blistered feet by a man with a killer jawline, a perfect body, and an even-better kiss. They bust out of an emergency exit and have axis-shaking sex. He pours whiskey in her belly button and after they run out of condoms, they have to get creative. That kind of sex.

The next day, she learns that he is none other than Dr. Benjamin Beck, a brand new member of the Yale faculty and the hottest thing to happen to academia since… well, ever. She has to take his damned junior seminar to graduate, but it gets worse. He's also her College Master: her boss, her advisor, her everything. And he's just moved in, right downstairs.

They can't stay away from each other. They're either fusion or fission or both. They're making out in libraries, hiding notes between stones, and sneaking off to nautically themed AirBnbs. Hear that sound? It's the academic code of ethics going up in flames.

If they're found out, he'll lose his job and his reputation. She'll lose her scholarship and be forced to return to the life of lobster fishing that she thought she'd escaped.

And they will be found out, yes they will.

So what the hell are they going to do?
DOVE L'HO ACQUISTATO:
*aggiornamento dell'ultimo minuto* Appena scoperto che questo romanzo che avevo adocchiato è gratis su Amazon, quindi l'ho subito preso! Non so che farei senza le
VBB Vixens
♥
A past hidden in darkness. Her present cloaked in secrets. The future holds the only truth that cannot be escaped.

After the mysterious and violent death of her parents, Blake Brennan finds comfort with an unconventional family. As the dramatic loss of her parents continues to haunt her—and hinders her from reciprocating love that others give freely—Blake embarks on a harrowing journey in search for the truth.

Living in a constant state of fear and need for control, vivid nightmares reveal details that lead to perilous situations. The past begins to collide with the present, and Blake must decide if the truth is worth losing the ones she loves.

Can love conquer all as her past comes to light? Or will Blake realize that there is no light in darkness?
DOVE L'HO ACQUISTATO:
Altro dono nella newsletter di Alessandra Torre :D ho letto recensioni molto positive! Ho già avuto un'esperienza, purtroppo non positiva, con questa autrice, ma ricordo che la sua scrittura mi piacque.
People come into our lives. Some stay, and many go. Some build us up, while most tear us down. They become our friends, our enemies, our lovers, our tormentors. Christian Davison came into mine, and I knew I'd never be the same.

To Elizabeth Ayers, New York City had always been a dream. She's worked her entire young life to make it here.

Groomed to one day take over his father's law firm, attending Columbia University was Christian Davison's only option.

Neither wanted anything more until they sat across from each other at a café table after being paired as study partners. Christian wants her, but Elizabeth knows better than to give into their intense attraction. Yet there is little she can do to stay away.

Lost to You and Take This Regret can be read as Stand-Alone Novels. Recommended reading order: Lost to You, Take This Regret, If Forever Comes.
DOVE L'HO ACQUISTATO:
Ho ADORATO
Take This Regret
e non vero veramente l'ora di leggere TUTTI i romanzi di questa straordinaria autrice! Ne ho già altri due nel mio prossimo ordine, can't fucking wait :P
"I'm not the hero in this story, girl. You'd do best to remember that."


At eighteen years old, I was murdered.

I wish my tale ended there.

However, my killer resuscitated me and sold me to the highest bidder, sentencing me to a world worse than Hell.

For the past two years, I've lived a life of torment as a man's property. I suffer in silence and wish for freedom, but I never break.

I can't.

I won't.

But then he arrives.

The first stranger since I was killed.

Elder Prest, a thief with a heart as black as his soul, arrives as a guest in our twisted home. He has business with my owner, but his interest lies in me. He pretends not to notice my bruises and hides his knowledge of what I am, but the way he watches me makes me feel more human than possession.

As his eyes tear through my walls and his voice demands answers, he challenges my owner for one night with me.

I've survived two years of torment because I no longer believe in hope, but Elder is the only man who promises me pleasure instead of pain.

Trusting him is dangerous, wanting him is deadly.

Is he my ticket to safety or my ultimate end?


Whoever he is, whatever he wants...I can't say no.
DOVE L'HO ACQUISTATO:
Avevo deciso di non leggerlo, per nulla attirata dalla trama e viste le mie recenti reazioni agli ultimi libri di Pepper, ma poi era lì, nella newsletter di Alessandra Torre... non ho saputo resistere ahahahahahahah
I had a one-night stand. It wasn't my first, but it would be my last.

A gun to the head.

A trained killer.

A deadly conspiracy.

Kidnapped and on the run, my life and death is in the hands of a sadist captor who happens to be my one-night stand. Armed with countless weapons, money, and new identities, the man I call Six drags me around the world.

The manhunt is on and Six is the next target. Can we find out who is killing off the Cleaners before they find us?

Two down, seven to go.

When it's all over he'll finish the job that dropped him into my life, and end it. Stockholm Syndrome meets bucket list, and the question of what would you do to live before you died. The questions aren't always answered in black and white. Gray becomes the norm as my morals are tested.

Death is a tragedy, and I'll do anything to stay alive.

Are you ready for the last ride of your life? Six has a gun to your head—what would you do?

This isn't a love story.

It's a death story.
DOVE L'HO ACQUISTATO:
Primo dei due regalini della mia sis Els per festeggiare il nostro friendanniversary ♥ I LOVE YOU! Lo avevo già adocchiato e sono molto curiosa :D
Sara Adams awakes blind, unable to remember the most basic details of her life, but her darkness seems a blessing when she discovers the terrors of The Light.

Stella Montgomery investigates the news on the mean streets of Detroit, where she's noticed a disturbing trend: young women are vanishing. When her best friend disappears, Stella investigates—despite warnings from her police detective boyfriend—following a twisted trail that leads her through the city's most dangerous and forsaken precincts. There she uncovers something more sinister than she could have imagined: a shadowy organization known as The Light, led by the enigmatic Father Gabriel.

As Sara struggles to understand her place in the strange world she's awakened to—an oppressive cult demanding unquestioning obedience—and her feelings for Jacob, the husband she can't recall and whose harsh and tender attentions confuse and beguile her, Stella risks all to discover the truth. But enlightenment always comes with a price…
DOVE L'HO ACQUISTATO:
Secondo regalino di Els ♥ AMO questa cover, e ho letto che la storia è veramente intrigante! Spero che lo stile dell'autrice sia cambiato e che ci siano più dialoghi e meno narrazione. Can't wait to read it ;)
I married the right brother.

At least that's what I tell myself at night, when I stare at the ceiling and listen to the rhythm of the grandfather clock down the hall. It never feels like the mere passage of time, but a countdown towards something inevitable.

Bobby Lightly is selfish, irresponsible, and careless. I haven't seen him since the day I married his brother. He slipped out during the wedding reception without a word.

A year later, I heard Bobby was drafted to Korea. He never said goodbye. Never sent a letter. We had all come to terms with the fact that he was probably dead somewhere, either a victim of the war or its aftermath.

That is, until in the midst of an unrelenting heatwave, he showed up at the doorstep of the house I lived in with his brother.

Everyone thinks I'm cruel. Everyone thinks I should be easy on him. They think I don't understand him. They all think I hate him.

But what no one understands is that it was Bobby who broke my heart.

And I think he's back to do it again.
DOVE L'HO ACQUISTATO:
Scambio con la mia amica Raquel! Di questa autrice ho già letto
Debt
, e questa nuova storia mi attira moltissimo :D mi ricordo mi disse che era ambientata tipo negli anni Venti – fico!
THE PLAN:

* Smuggle diamonds from Liberia to Morocco
* Make the trip in three days
* Don't get caught
* Don't kill each other
* Don't have sex with each other
* Don't fall for each other
* Stick to the plan

This is the story of what happens when an unlikely bond is formed between enemies, causing tensions to rise, and igniting a chemistry that threatens to burn them both. Together, they'll learn that sometimes even the best laid plans can fail.
DOVE L'HO ACQUISTATO:
Scambio con la mia amica Raquel! Sono sempre stata affascinata da questa cover, dalla trama... da tutto xD decisamente non vedo l'ora di leggerlo, sembra molto accattivante :3
He's thirty-eight. I'm twenty-three.

He speaks Spanish. I speak English.

He lives in Spain. I live in Canada.

He dresses in thousand-dollar suits. I'm covered in tattoos.

He's married and has a five-year old daughter.

I'm single and can't commit to anyone or anything.

Until now. Because when they say you can't choose who you fall in love with, boy ain't that the f*#king truth.

***

To a restless dreamer like Vera Miles, it sounded like the experience of a lifetime. Instead of spending her summer interning for her astronomy major, she would fly to Spain where she'd spend a few weeks teaching conversational English to businessmen and women, all while enjoying free room and board at an isolated resort. But while Vera expected to get a tan, meet new people and stuff herself with wine and paella, she never expected to fall in love.

Mateo Casalles is unlike anyone Vera has ever known, let alone anyone she's usually attracted to. While Vera is a pierced and tatted free spirit with a love for music and freedom, Mateo is a successful businessman from Madrid, all sharp suits and cocky Latino charm. Yet, as the weeks go on, the two grow increasingly close and their relationship changes from purely platonic to something…more.

Something that makes Vera feel alive for the first time.

Something that can never, ever be.

Or so she thinks.
DOVE L'HO ACQUISTATO:
Scambio con la mia amica Raquel! Mi sono innamorata di Karina con la sua
The Artist Trilogy
e sono così emozionata all'idea di leggere un'altra sua opera ♥ le recensioni sono entusiaste :D
Allora, avete adocchiato qualcosa che potrebbe finire sui vostri scaffali? :D
Quali sono stati i vostri ultimi acquisti, invece?
Scrivetelo nei commenti, oppure lasciatemi il link della vostra In my mailbox!